Jessica Sandy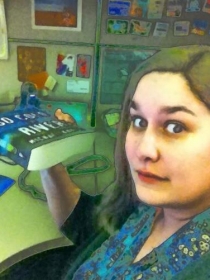 Senior Technology Projects Manager, Technology Department
Introduction:
Jessica is responsible for managing web and digital media initiatives at the Field Museum. This includes the Field Museum website, social media platforms, app/ebook development, intranet and other web development projects. Jessica is additionally responsible for overseeing general technology projects; from initial requirements gathering to implementation and training. Jessica enjoys leading a dedicated, innovative team in developing technical solutions, websites and applications that are both beautiful and intuitive.
Education:
B.A., English Writing and Lit., DePauw University, B.M., Vocal Performance, DePauw University.
M.A., Humanities, conc. Musicology, University of Chicago.
Grants & Awards:
Lilly Endowment Scholar, Arion Award for Music, Kiwanis Foundation Music Award (Indiana)
Professional Affiliations:
Member, Young Non-Profit Professionals of Chicago
Member, Social Media Club of Chicago
Member, Young Professionals of Chicago
Member, Chicago Convention and Tourism Bureau
Member, Technology in the Arts